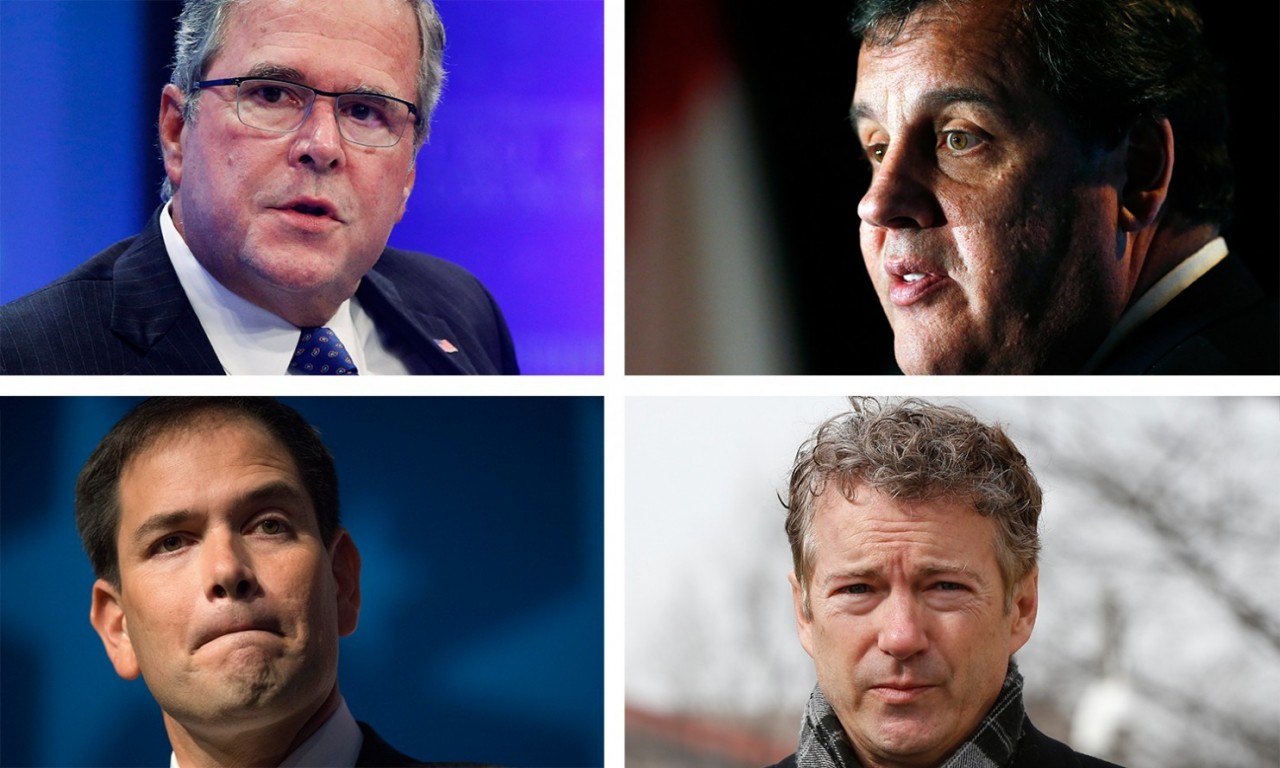 Clockwise, from top right: Gov. Chris Christie, Sen. Rand Paul, Sen. Marco Rubio and Former Gov. Jeb Bush are all considered to be potential 2016 contenders for the GOP presidential nomination
If there's one thing you can say about the 2016 Republican presidential field, it is this: It is going to be huge.
There are as many as 23 names on some long (long) lists of potential candidates. That's twice(!) as many people as have run for the GOP nomination in any previous campaign. Now, not all of those "candidates" will actually run — Sen. Bob Corker and Rep. Marsha Blackburn, both of Tennessee, don't make much sense as presidential candidates, to name just two — but a huge field of serious contenders remains.
Although all won't make the race, the fact that there are so many credible potential candidates speaks to the key dynamic of the coming Republican race: There is no true front-runner.
You can make the case for Jeb Bush as the top dog. Or Chris Christie. Or, as we have in the ratings below, Rand Paul. But you can unmake each of the cases — including ours — pretty easily. When national polls put the leading contender at 15 percent, you know the word "front-runner" doesn't mean much.
Given that, the prevailing sentiment among ambitious Republicans looking at 2016 is "Why not me?" As in, if the best-known potential candidates are polling only in the mid-teens (at best), why the heck shouldn't I run and just see what happens? That attitude is affirmed by what happened in the 2012 primary fight, a remarkably fluid contest in which previously unknown candidates such as Herman Cain got their moment(s) in the national spotlight.
Add it up and you can expect to see as many as 15 legitimate candidates in the presidential contest at some point in the next two years.
Below are our rankings of the 10 who have the best chance of winding up as the Republican nominee. The candidate ranked No. 1 is the most likely winner.
10. Rep. Paul Ryan (Wis.). The 2012 GOP vice-presidential nominee is on this list because he would be a front-runner the moment he got in. But Ryan also seems entirely happy to continue serving in the House. He just traded in his House Budget Committee chairmanship for the more powerful Ways and Means Committee, which gives him ample reason to stick around.
9. Former governor Mike Huckabee (Ark.). On one hand, there arenational and early-state polls that show Huckabee is among the best-known and best-liked politicians weighing the 2016 contest. On the other hand, Huckabee seems no more committed to building a real campaign infrastructure or raising money than he was in 2008, when his inability to do either made it impossible for him to capitalize on the momentum gained from his win in the Iowa caucuses.
8. Sen. Ted Cruz (Tex.). Cruz is, and will continue to be, the most conservative candidate in the field. He is also the front-runner to be the candidate whom all of the others privately — and maybe even publicly — detest. Cruz, of course, relishes that role, believing that it affirms just how much of an outsider he is to the political process. He will probably have a devoted and committed 10 to 15 percent following in a place such as Iowa; the question is whether he can grow beyond that loyal base or whether he is Michele Bachmann 2.0.
---