Because of Donald Trump's wealth and celebrity status, public opinion polls have asked Americans their thoughts about him for decades. These surveys offer an important window into the public's past views of the current president.
One lighthearted example comes from a 1989 Parents Magazine survey that gauged the public's interest in spending Valentine's Day with Mr.
Trump. He did not fare so well. Out of the 10 potential celebrity dates, only Mikhail Gorbachev was a less attractive Valentine at the time.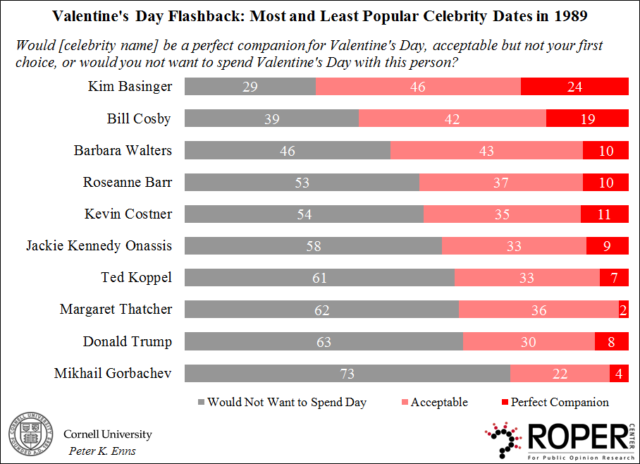 Survey Notes: Male celebrities were asked only of female respondents, female celebrities were asked only of male respondents. Percentages in the figure do not include those who did not provide an answer. Percentages may not add to 100 due to rounding. Survey conducted by Parents Magazine (9/22-10/10/89), obtained from the iPOLL databank provided by the Roper Center for Public Opinion Research at Cornell University.
Thanks to Peter K. Enns, Executive Director of the Roper Center for Public Opinion Research and Associate Professor of Government, Cornell University.
---