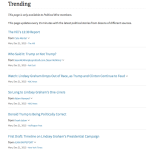 I'm excited to introduce a completely revamped trending news section exclusive for Political Wire members.
This page automatically grabs the latest headlines from more than a dozen political news sites every 15 minutes. It's simply the fastest way to see the latest political news. You can click here to see a preview.
Members have access now if they're signed in.
If you're not yet a member, sign up today!
Monthly – $5 per month
or
Annual – $50 per year
---