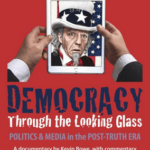 I'm pleased to offer Political Wire members a free pass to view a new documentary about the 2016 presidential campaign, Democracy Through the Looking Glass.
Sign in to your account or join today!
If you would rather not join but want to watch the documentary, you can get 50% off movie pass using promo code ImApwReader.
Monthly – $5 per month
or
Annual – $50 per year
---