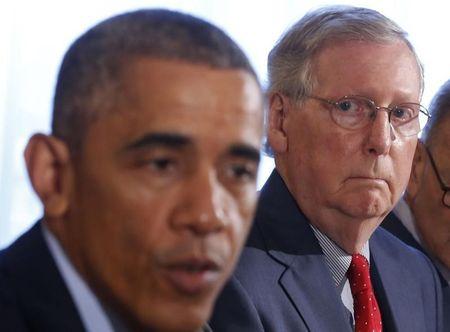 Obama and Senate Republican leader Mitch McConnell begin a new chapter in a relationship that is likely to remain frosty but businesslike.
The president and the Senate majority leader will need to find ways to work together if they want to overcome legislative gridlock and reach agreements on trade, tax and economic issues.
Views:
The big risk to the nation is that more and more people are losing faith in the ability of our government to govern. The US system was designed so that compromise and tolerance was required from both sides if anything was to be done. But look at the Tea Party, attacking REPUBLICANS if they dared to make a deal with the enemy.
when the dems owned the senate there was ZERO areas of agreement, why is McConnell looking for any now?
Awful damage has been done to the country by these Lib/Dems, led by barrack hussein our incompetent, lying, racist leader. Along with his crew of professional liars- Gruber the Great with his superior brain, crooked old harry reid, queen hillary, unapologetic racist eric holder, lying lois lerner, nutty nancy pelosi, "I'll read it later" diane feinstein and the rest of the gang really did a job on the country, God help what's left of the US !
---