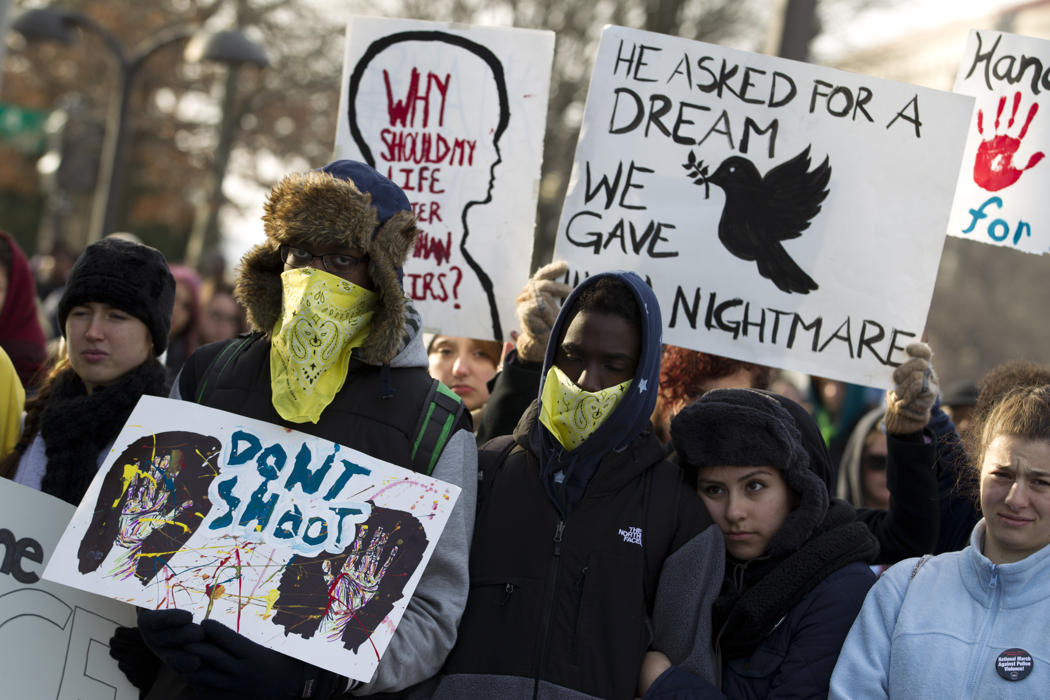 Demonstrators march on Pennsylvania Avenue toward Capitol Hill in Washington, Saturday, Dec. 13, 2014, during the Justice for All rally. More than 10,000 protesters are converging on Washington in an effort to bring attention to the deaths of unarmed black men at the hands of police. Civil rights organizations are holding a march to the Capitol on Saturday with the families of Michael Brown and Eric Garner, two unarmed black men who died in incidents with white police officers
Thousands of demonstrators gathered at Freedom Plaza in Washington, D.C., Saturday morning for the Justice for All March.
A series of speakers addressed the demonstrators before the march at noon down Pennsylvania Avenue to the U.S. Capitol.
Rev. Al Sharpton, who founded the National Action Network, called for the march in hopes that the federal government will intervene in the controversial nonindictments of police officers in the deaths of Michael Brown in Ferguson, Mo., and Eric Garner, in Staten Island, N.Y.
Terence "TC" Muhammad, an activist with the Hip-Hop Caucus, said there should be a march in every major city and that this shouldn't just be a march but a global movement.
"You all people are sick and tired of being sick and tired and dying in the streets and we're not going to take it anymore," he told the crowd. "We're going to put our hands up, but when we put our hands up this time, we're going to put our hands up to do something."
Muhammad said the younger generation is not scared and the "spirit of revolution" can no longer be pacified.
"We know demonstration without legislation leads to frustration," he said.
Between speakers, the crowd chanted "No justice, no peace," "Hands up, don't shoot" and other phrases that have become slogans for the series of protests since the nonindictments.
Barbara R. Arnwine, president of the national Lawyers' Committee for Civil Rights Under Law, said that her organization has been on the frontlines of battling injustice for more than 50 years.
"We want to salute every single person who's out here today," she said to applause, "because you're standing up for all of us!"
Freedom Plaza, the rallying point, is just blocks away from the White House.
Family members of Garner, Michael Brown, Akai Gurley, Tamir Rice and Trayvon Martin are participating in the march, according to the National Action Network.
Many protesters arrived on buses from Florida, New York and other parts of the country. The Associated Press estimates the total number of demonstrators to be more than 10,000.
---