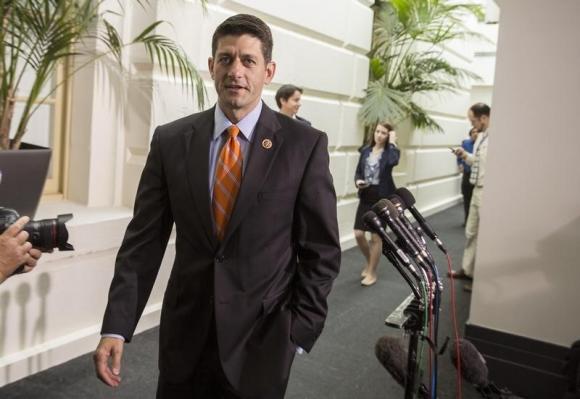 Budget Committee Chairman Paul Ryan (R-WI) walks from a Republican caucus meeting at the Capitol in Washington August 1, 2014.
Potential Republican president candidates, including Representative Paul Ryan, may have to choose between the lure of the White House and chairing a congressional committee under a new rule approved on Friday in the House of Representatives.
Ryan, a 44-year-old conservative from Wisconsin who was his party's nominee for vice president in 2012, is chairman of the House budget committee in the current Congress. He has said he wants to chair the tax-writing Ways and Means Committee in the new Congress that takes office in January.
But under the rule approved Friday by House Republicans, lawmakers would have to give up the chairmanship of a committee or an appropriations subcommittee if they run for another office, such as senator or president.
The provision's author, Representative Tom Cole, said he did not intend for it to be aimed against Ryan. He had been focused on lawmakers running for the Senate -- a far more common occurrence in the House than a presidential campaign.
Cole added a provision that exceptions could be made, after discussing it with House Speaker John Boehner's office.
"I just want the presumption being if you're running for something else, that you give up the gavel and allow somebody else that's going to be here to actually set the agenda and do the work," Cole told reporters outside the Republican gathering.
"The steering committee can waive it, so if we've got an unusual circumstance -- and Paul Ryan would be the perfect example of that," Cole said.
Representative Mick Mulvaney said he did not think the proposal offended Ryan, a popular figure among Republican conservatives in the Capitol who attended the rules session.
"I don't think Paul took it as an affront to him," Mulvaney said. "If you are going to run for president, maybe you don't have time to be chairman of a committee."
---