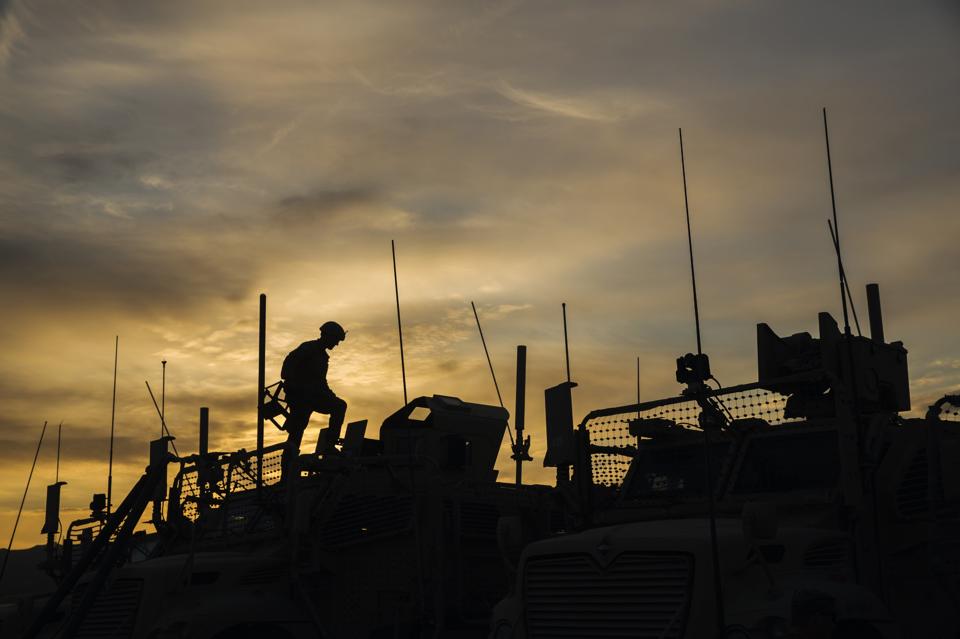 A U.S. soldier from the 3rd Cavalry Regiment prepares his Mine-Resistant Ambush Protected (MRAP) vehicle for a mission on forward operating base Gamberi in the Laghman province of Afghanistan December 12, 2014.
Taliban fighters shot dead at least 12 workers clearing mines Saturday in southern Afghanistan, authorities said, part of a series of attacks that saw two U.S. troops killed and a top Afghan court official gunned down.
Security in the capital, Kabul, has been stepped up as the Taliban have warned that attacks will continue as most foreign troops prepare to withdraw at the end of the month, 13 years after the Sept. 11 terror attacks sparked the U.S.-led invasion.
The attack targeting the mine-clearing operation struck southern Helmand province between its Nadali and Washir districts, police spokesman Farid Ahmad Obaid said. He said Taliban militants killed at least 12 workers and wounded another 12. Afghan soldiers later began a firefight with the insurgents, he said.
Obaid identified the company working on the project as Star Link. An employee of Star Link, who spoke on condition of anonymity as he was not authorized to speak to journalists, said that the number of dead could be higher.
Mohammad Din, a Star Link manager, separately said 81 workers were at the site when the gunmen arrived.
Afghanistan, which has suffered decades of continuous war, is one of the most heavily mined countries in the world. The nonprofit Halo Trust estimates some 640,000 mines have been laid there since 1979 and at least 20,500 people have been killed and wounded by such ordinance since.
Those working on projects to clear mines are often targeted by the Taliban and other insurgents in the country. In April, Taliban fighters killed 12 people working on a mine-clearing project in Logar province, south of Kabul.
Afghanistan has experienced a sharp spike in violence since President Ashraf Ghani took office in September. The attacks have been concentrated in Kabul and aimed mostly at government, military and foreign targets. Five foreign nationals have been killed in three separate attacks in Kabul in the last month.
Late Friday, a militant attack on a military convoy killed two U.S. soldiers by the Bagram air base in Parwan province near Kabul, an international military official told The Associated Press. The official spoke on condition of anonymity as the information wasn't authorized for release.
NATO's International Security Assistance Force said in a statement that two service members "died as a result of an enemy forces attack in eastern Afghanistan." NATO does not identify the nationalities of the dead, relying instead on their home countries.
The deaths on Saturday were the first foreign troops killed this month, bringing to 65 the total number of international troops killed in the country this year, 50 of them Americans.
Early Saturday, gunmen shot dead Atiqullah Rawoofi, the head of the court's secretariat in Kabul's northwestern suburbs, said Farid Afzali, chief of the Kabul police criminal investigation unit.
A later explosion struck a Defense Ministry bus in southwest Kabul, said Khadam Shah Shahim, Kabul division commander of the Afghan National Army. He offered no casualty figures.
---