Remarkably Fast Liberalization of the Democratic Party
expand
Washington Post: "Democrats have actually shifted more over the past two decades on many key social and philosophical issues, trending relatively quickly toward liberal positions as Republicans have changed more slightly. And the totality of it shows that Democratic voters are actually more polarized than Republicans are."
"Pew has been running this study for years, and it's the gold standard when it comes to documenting the nation's political polarization. This chart, in particular, demonstrates why we can't all just get along: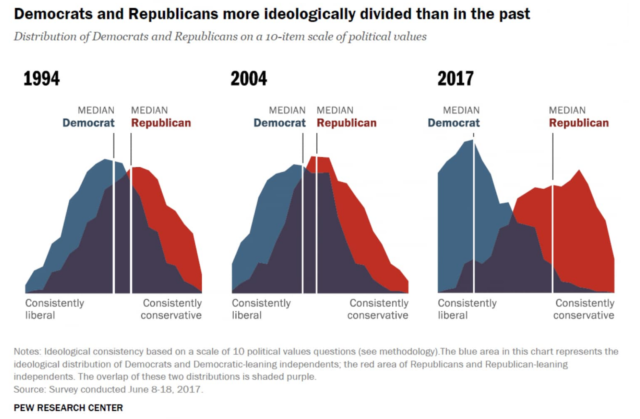 "But look closely at that third graph, and you'll notice that Democrats are actually more clustered toward the far left than Republicans are to the far right. The median Democrat is also closer to the extreme than the median Republican."
Dan Balz: Shifting attitudes among Democrats have big implications for 2020.
---
Read more→
---
Posted on 07.10.2017 15:42
Понравился наш сайт? Присоединяйтесь или подпишитесь (на почту будут приходить уведомления о новых темах) на наш канал в МирТесен!
1
Показы:

1
Охват:

0
Прочтений:

0
---
Facebook comments