Just for members: A packed new edition of Inside Elections.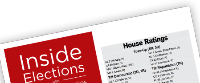 This issue includes a deep dive into the Georgia Senate race, where Republicans are facing an intra-party battle with a special election twist that could push the final result until January, and after the next Senate is sworn in.
The edition also includes a spotlight on Arizona as a presidential battleground, updated House analysis after the Alabama, North Carolina, and Texas primaries and Senate analysis, including a potential major rating change in Montana, if Gov. Steve Bullock enters the race.
If you're not yet a member, sign up for an Annual or Monthly membership for instant access and many more benefits.
And don't forget: Gift Memberships are also available for those political junkies in your life.
---