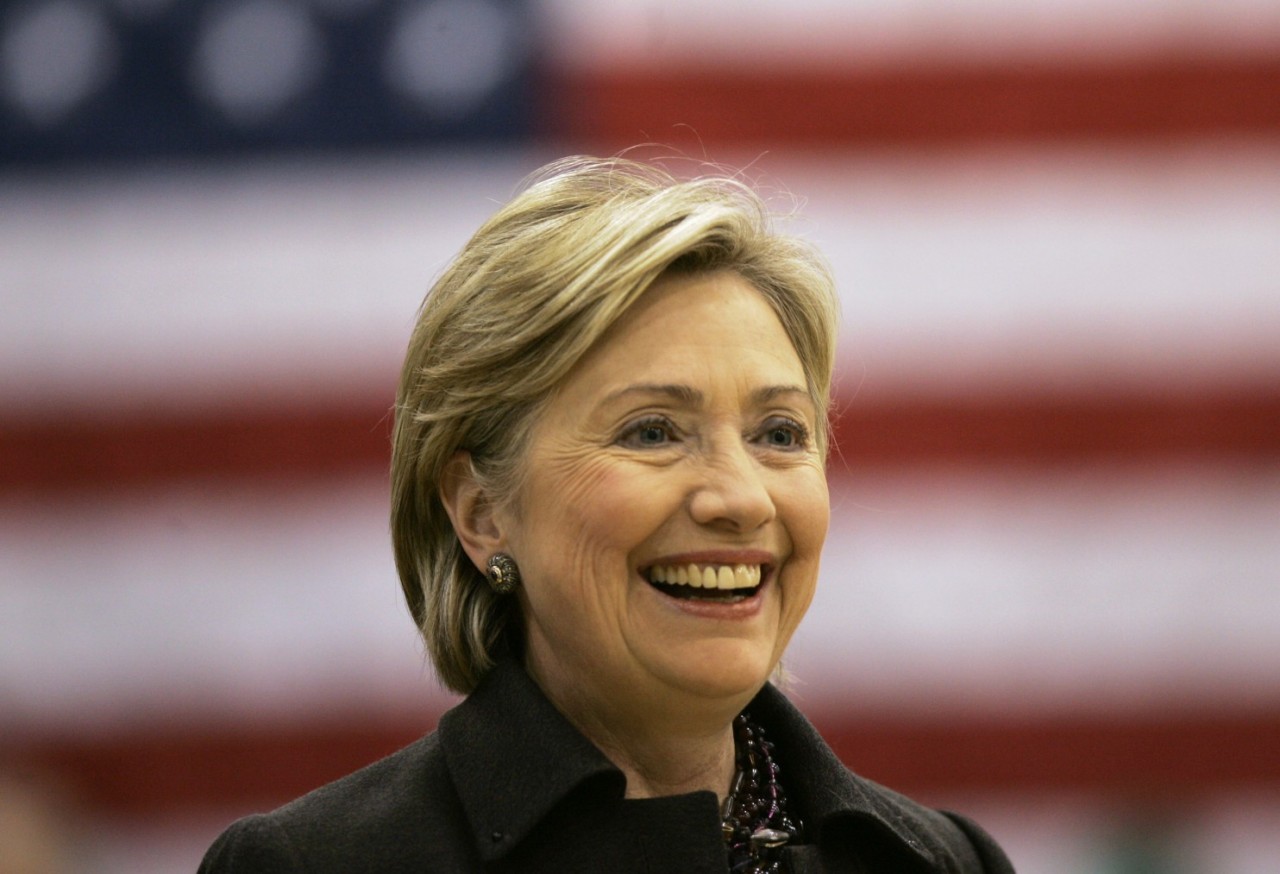 During her unsuccessful presidential run in 2008, Hillary Rodham Clinton spoke at a campaign stop in Muscatine, Iowa. She is returning to the state this weekend for the first time since her defeat.
Hillary Rodham Clinton returns to Iowathis weekend for the first time since her devastating loss in the 2008 presidential caucuses, arriving as the undeclared front-runner for the 2016 Democratic nomination but still trailed by criticisms about her first campaign here.
The former secretary of state and her husband, former president Bill Clinton, will be in Iowa for Sen. Tom Harkin's annual steak fry on Sunday. But if the ostensible purpose of her visit is to pay tribute to Harkin (D-Iowa) — who is retiring after 40 years of elective office in Washington — she will not escape from the speculation that this is simply one more step toward a formal presidential campaign. At a minimum, it will mark her initial foray on the campaign trail for this fall's midterm elections.
"I don't expect her to talk about her future decisions," said Harkin's wife, Ruth, who is a longtime Hillary Clinton friend and supporter. "They're going to be announced next year. But this is a very significant moment for her to greet Iowa voters."
Clinton's 2008 effort in Iowa was plagued by start-up problems and affected by the overall dysfunction of her national campaign team. By the time she corrected her course, then-Sen. Barack Obama (Ill.) had moved ahead of her on the ground.
But it was more than staff problems that hurt Clinton here in 2008. As a candidate, she often chafed at the demands of the caucus process, including the time required to court individual activists across the state. She disliked traveling too far from Des Moines and certain friendly hotels.
Added to that are questions raised by this summer's book tour about whether her campaign instincts have dulled. Clinton's time since leaving the Senate has been devoted to foreign policy discussions inside the administration, interaction with world leaders and more than a year of lucrative speechmaking as a private citizen — rather than being in more regular contact with everyday Americans.
At this point, Clinton has no strong challenger in Iowa — for her, a welcome contrast to eight years ago when she faced Obama and a well-entrenched John Edwards, the party's 2004 vice presidential nominee. Nonetheless, she won't have Iowa totally to herself this weekend.
Sen. Bernard Sanders (I-Vt.), who is contemplating running for president, will appear at several events, while Vice President Biden, who was the featured speaker at last year's Harkin steak fry, will be in the state next week. Gov. Martin O'Malley (D-Md.) has been a frequent visitor here.
Still, she remains the dominant prospective candidate in her party. Anticipation of Clinton's appearance (as well as her husband's), and that this is the last of Harkin's 37 steak fry events, will draw a large crowd at a balloon field in Indianola on Sunday afternoon.
Suggestions, critiques
Democratic activists and local party officials are eager to see and hear from her, even as they offer suggestions for how she should run differently in 2016.
Walt Pregler, the Democratic chair in Dubuque County, called Clinton "a lead-pipe cinch" if she runs for the nomination, though he has long been a supporter of Biden and would back him again if he were to run in 2016. "There's a great deal of support for her in Dubuque among my central committee," he said. "They like her, and they like Bill."
But many of these same activists say Clinton needs to learn from the mistakes of her last campaign, which drew criticism for not understanding the culture of Iowa's caucus politics and because the Clinton entourage often got in the way of her ability to connect more effectively with voters.
Julie Stewart, Democratic chair in Dallas County outside Des Moines, said her personal experience with Clinton has always been positive, but she was critical of the Clinton national team of 2008. "She brought people from New York, and that just didn't work," she said. "Obama hired Iowans or Midwesterners. Even though she grew up in the Midwest, the people she brought with her, I don't think they connected well."
A conversation with a group of Iowa Democratic activists earlier this year revealed similar complaints. The activists respected Clinton for her experience but still found her less approachable than some others in their party. And they complained about Clinton's national team, too.
"The BlackBerry was more important than the contact with [people]," Dale Todd, a developer of affordable houses who had backed Obama in the 2008 caucuses, said last spring. "We would be sitting right here, and they would be working their BlackBerry, and you just felt like you weren't getting through."
Bonnie Campbell, who was co-chair of Clinton's 2008 Iowa campaign, said the criticism of Clinton as someone who could not connect with voters in Iowa still baffles her. "I'm mystified by it," she said. "I attended many events where she stayed till the last hand had been shaken. . . . There was a really strong, important give and take. I just don't know. I don't think that's accurate."
But Campbell acknowledged the challenges Clinton would face trying to run a campaign close to the ground, given her stature and the security protection that accompanies her. "The hardest challenge of all is putting together a strategy that's true to her personality and style, which I do think the one-on-one is," she said. "Thinking about how you do retail politics when you are such almost a larger-than-life figure is a real challenge."
Neither Clinton nor most of her national staff understood the intricacies of the sometimes-arcane caucus process. By the time the 2008 campaign here ended, both she and her husband were left with a sour taste about the caucuses, which they saw as undemocratic. Caucuses require voters to show up at a specified hour and stay for an extended period, unlike primaries that allow someone to vote at any time during the day.
The former president also was new to the caucus process in 2008. He never had to compete in the caucuses during his campaigns for the White House because he and others ceded the state to Harkin in the 1992 nominating contest, and he faced no primary competition in his reelection campaign. Even now, he is still fixated on what he thinks are the flaws of the process.
Getting ready for Hillary
This time around, Clinton's allies, with the help of some of those who ran Obama's 2008 operation, are busy trying to avoid the problems of the past. Some are assembling a grass-roots network here that her eventual campaign could inherit while the state Democratic Party is moving to address some of the criticisms of the caucus process.
Ready for Hillary, a pro-Clinton super PAC, began organizing in Iowa in January and has been signing up supporters at fairs and political gatherings in all 99 counties. "It's just like a campaign, absent an announced candidate," Campbell said. She admitted that she was skeptical when she attended the first Ready for Hillary organizing meetings in Des Moines but now is "all in." The groundwork will give Clinton a "huge advantage" in the caucuses.
Ready for Hillary officials said the group recently bought the Iowa Democratic Party's 2008 caucus voter data, at a cost of $20,000, which includes data about every Democrat who participated in the caucuses and which candidates they supported. The super PAC intends to target voters who caucused for Obama and other candidates to persuade them to support Clinton, as well as reconnect with those who caucused for Clinton the first time.
The Iowa Democratic Party has proposed changes to caucus rules in an effort to make them more accessible to more people.
Scott Brennan, the state Democratic chair, said the proposals are the result of recommendations from a process that drew advice from many sources. A Democratic activist, who declined to be identified in order to be candid, said Iowa supporters of Clinton worked to encourage the changes.
The party is trying to make caucus locations more accessible for handicapped voters, improve child-care options for parents of small children, and create options for military men and women serving overseas to participate. Also under consideration is a rule allowing so-called satellite caucuses, in which, for instance, a group of laborers in a factory working a shift during the caucus time could assemble their own caucus at their workplace, so long as their employer accommodates them.
"It's all about how can we get more people involved in the process," Brennan said.
Iowa was always a difficult state for Clinton in 2008. Though she held a big lead in national polls throughout 2007 and was running ahead in most other states, she was never able to build that kind of commanding support in Iowa against either Obama or Edwards.
The state looked daunting enough that Mike Henry, who was the deputy campaign manager, wrote a memo recommending that Clinton skip the state entirely. When the memo leaked, the Clinton campaign disavowed the contents, though in retrospect the advice might have served her well, given her third-place finish here.
In an interview, Harkin agreed that Clinton will need to campaign aggressively and frequently in Iowa. But he also said that in 2008, she showed herself to be "very, very good" at the kind of retail politics this state's voters reward.
"If she does what she did the last time, she'll be in great shape, because I don't think there's another phenomenon out there like Barack Obama that would upset everything," Harkin said.
---