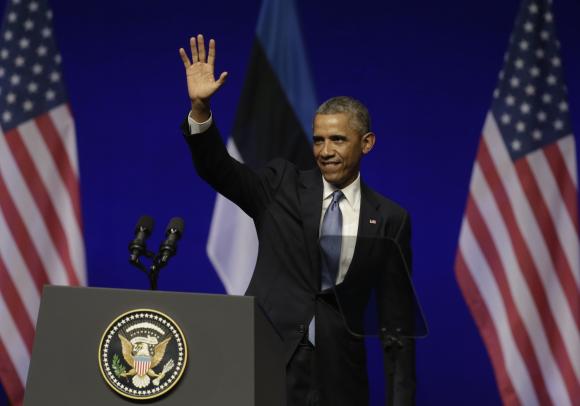 U.S. President Barack Obama greets audiences at the Nordea Concert Hall in Tallinn, September 3,
The top Senate Republican said on Thursday President Barack Obama can expect bipartisan support in Congress if he offers a "credible plan" to go after Islamic State militants, as senior U.S. officials prepare to brief lawmakers on the matter.
Some lawmakers contend that Obama should seek congressional authorization for airstrikes in Iraq against the Sunni militants. However, it is not clear whether such a vote would take place this month or whether he needs Congress to approve the limited actions already under way.
Obama "needs to come forward with a plan" for dealing with the Islamic State, Senate Republican leader Mitch McConnell told Reuters in an interview in Kentucky, where is campaigning for re-election
"I think theCongress  is anxious to see what the president thinks we ought to do about this," McConnell said.
"My guess is it will require some kind of authorization from us, maybe some kind of funding, and I think if it's a credible plan to go after these killers, he's very likely to be supported on a bipartisan basis," added McConnell, a fierce critic of Obama.
The Obama administration is dispatching senior intelligence officials and Secretary of State John Kerry to brief members of Congress and staff about the militant group in the coming weeks, congressional aides said.
Officials from the Office of the Director of National Intelligence and the National Counterterrorism Center will brief congressional staff on Friday, before Congress returns on Monday from its August recess.
Kerry will testify to members of the House of Representatives Foreign Affairs Committee during the week of Sept. 15, an aide said.
McConnell said he expects Obama to submit a plan to Congress, which aims to take another long recess starting around the third week of September until after the Nov. 4 congressional elections, leaving a small window for Congress to act.
"I approve of what he is doing so far ... and I hope he will do a lot more" to battle the Islamic State, said McConnell, although he said Obama should have acted sooner.
Obama has formally informed Congress about airstrikes and other military activity in Iraq to counter the threat from the Islamic State, as he is required to do under the War Powers Act.
However, the act gives presidents authority for only temporary military action, and Obama would have to seek Congress' approval for a campaign lasting more than 60 days.
The rise of the Islamic State group is expected to be an issue in campaigning for the congressional elections.
Representative Kevin McCarthy, the House majority Leader, said in a memo to fellow Republicans on Thursday that the Obama administration had been "too passive" in allowing militants to gain strength.
Signaling Republican intentions to use accusations of Democrats' mismanagement over Iraq and Syria as a campaign issue, he chided the administration over a U.S. Forest Service article on roasting marshmallows with healthier ingredients such as fruit instead of chocolate.
"For the things that government is supposed to do - like confront terrorist groups - we don't have a strategy, but for things Americans are supposed to be able to do for themselves - like figuring out the best ingredients for s' mores - government bureaucrats have that figured out," McCarthy said.
---