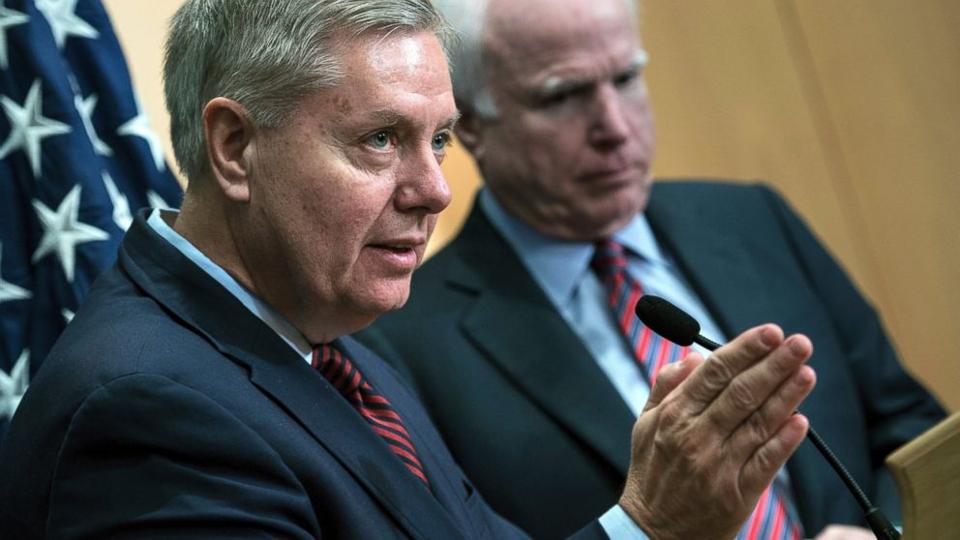 John McCain (right) is "strongly encouraging" Lindsey Graham (left) to consider a presidential run in 2016.
Confirming a new defense secretary is likely to be one of the very first things the new Senate majority does in 2015, which presents Republicans with an opportunity to move on one of their top legislative priorities: rolling back defense spending cuts.
Hawkish Republicans oppose the $600 billion in the sequestration automatic across-the-board spending cuts that kicked in after congressional negotiators failed to find agreement on targeted savings in 2011. Now, they are aiming to use the confirmation hearings for President Barack Obama's pick to lead the Pentagon to press the nominee on the cuts agreed to by the White House. One senator has even gone so far as to say that he will not vote to confirm the nominee, Ashton Carter, unless he agrees that the cuts need to be reversed.
"If someone said that they could accommodate sequestration, then I wouldn't vote for them, because they clearly don't know what they're talking about it," Sen. Lindsey Graham, R-S.C., told Yahoo News, adding that senators "totally" should use confirmation hearings to discuss the issue.
Graham said that restoring defense spending levels to their pre-2011 status "should be one of the things that works for us all," uniting a party that can be ideologically divided on spending issues generally.
Sen. John McCain, R-Ariz., said that Republicans will get the nominee on the record about the spending cuts, though he noted that he knew each person being considered for the job as recently as last week supported rolling back the cuts and that the issue extends beyond getting soundbites at a confirmation hearing.
"The debate is much larger than any nominee. The debate is whether the Republicans-dominated Congress will repeal sequestration or continue the deterioration of our military and our ability to defend the nation," McCain said.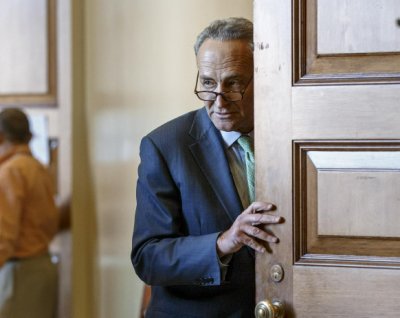 Sen. Chuck Schumer, D-N.Y., emerges from a Democratic caucus meeting at the Capitol in Washington.
Senate Republican aides indicated that new GOP-led appropriations committees could just refuse to budget at the reduced spending levels, thereby reversing the cuts that have for years been agreed to on a one-to-one ratio with reductions in social programming budgets.
The fight over defense spending levels is an important test for the Democrats, too: In a party where congressional leaders have long distrusted the Obama White House to stand firm on their priorities, the White House is now the last line of defense against policies the party doesn't like. There's no longer a Senate Democratic majority to help keep Republicans in check, and some Democratic aides have begun to worry privately that even if Republicans push to increase defense spending, and not also to undo cuts to social programs, the White House will sign off on their approach.
Publicly, however, Democrats are saying that they have confidence in the president to uphold the 2011 bargain that divides spending cuts equally between defense and domestic programs.
"I think Democrats believe in 50-50. I believe the president feels pretty strongly about 50-50, and so if they should try to violate that 50-50, they would face a president who wouldn't support whatever they pass," said Sen. Chuck Schumer, D-N.Y.
Schumer also made a key concession that telegraphed some openness to reversing the previously agreed-upon cuts. "I think the budget deficit, while still a problem, is in a lot better shape than it was three, four years ago, and they don't have the same velocity to make the same kinds of magnitude of cuts on the defense or nondefense side," he observed.
Of course, the foreign policy landscape has also changed since the cuts were initially enacted in 2011. One of the reasons Chuck Hagel was made defense secretary was to oversee spending cuts and make sure they did not compromise security. But as U.S. engagement in the Middle East expanded in 2014, with military action against the so-called Islamic State, spending needed to be bolstered. When the White House announced Hagel's departure, this shift from military contraction to expansion was one of the reasons cited.
Democrats are undertaking their own efforts to address the 2011 deal to enact $1.2 trillion in cuts over 10 years — cuts that took effect in 2012 — and the White House held an event recently highlighting the need for increased nondefense spending.
Last week, Obama went to the National Institutes of Health to tout progress on potential Ebola vaccines — and to call for more government funding for the research. More events like this could be on the way, according to Democratic sources, to continue to highlight the need for more nonmilitary spending.
---